State Healthcare Issues are Focus of Spectrum News' InFocus Hometown Debate Series
October 26, 2019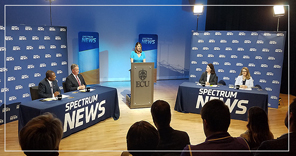 Spectrum News' Loretta Boniti is serving as the moderator of a multi-part series on state health care issues. The segments are airing on Spectrum News and are being sponsored by the North Carolina Institute of Political Leadership (IOPL), a non-partisan organization that educates future political and community leaders.
The four-segment series has discussed topics such as state Medicaid transformation, health insurance and rural healthcare access. In its rural healthcare access segment, ECU Department of Family Medicine Chair Dr. Chelley Alexander served as one of four panelists.
Spectrum filmed the series' final segment in Henderson, NC, on October 17th, 2019, with NCAFP's Executive Vice President Greg Griggs, MPA, serving as a guest panelist in discussing healthcare delivery, including issues such as telemedicine, Certificate of Need and healthcare consolidation. This segment is expected to air this weekend.