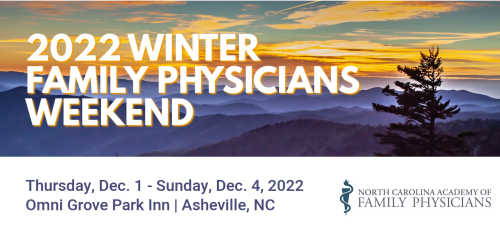 Celebrate your commitment of providing the best possible care to your patients with this fantastic learning opportunity!
If you have never attended an NCAFP conference, we warmly invite you to join us soon and experience firsthand what all the buzz is about. You'll enjoy a CME program that is guaranteed to leave your family medicine heart refreshed and re-energized. On behalf of the NCAFP, thank you ALL for what you do for your patients and communities every day. We appreciate you, and we are so proud of you!
Kathryn Atkinson, CMP
Director of CME & Events
919-214-9058
Thursday, December 1 - Sunday, December 4, 2022
The Omni Grove Park Inn, Asheville, NC


From start to finish, the NCAFP's annual premier learning opportunity is packed with over 25 clinical and informative sessions, along with several optional CME workshops and satellite seminars that you will not want to miss. Altogether, everyone's favorite annual weekend in the Blue Ridge Mountains is set to serve up approximately 30+ CME credits along with a heaping side of beautiful mountain views!
The 2022 Winter Family Physicians Weekend is always an excellent opportunity to fulfill your year-end CME requirements while recharging your zest for family medicine. Enjoyed and anticipated by hundreds of family doctors and their health care partners every year, we invite you to join us again this year for a CME program designed with you in mind. We look forward to seeing you and celebrating the specialty of Family Medicine with you this December! Learn more and register soon at www.ncafp.com/wfpw.
Please contact Kathryn Atkinson, CMP, Director of CME & Events, at Katkinson@ncafp.com with any questions.
Save These Dates in 2023 for More Terrific
NCAFP CME & Networking Opportunities


2023 Family Medicine Academic Summit
Friday, February 17 – Saturday, February 18, 2023
Sheraton Imperial Hotel Raleigh Durham Airport RTP
Approximately 5 credits
Networking Dinner with 30-Minute Hot Topic Exchanges – Charlotte
Thursday, March 30, 2023
Atrium Health Carolinas Medical Center Family Medicine Residency
Approximately 1.5 credits
2023 Virtual Summer Symposium
Saturday, June 24, 2023
From your favorite location!
Approximately 6 credits
Networking Dinner with 30-Minute Hot Topic Exchanges – Chapel Hill
Tuesday, September 19, 2023
UNC Family Medicine Center
Approximately 1.5 credits
2023 Winter Family Physicians Weekend
Thursday, November 30 – Sunday, December 3, 2023
Omni Grove Park Inn | Asheville, NC
Approximately 30 credits
Have Questions?
Contact Kathryn Atkinson, CMP
Director of CME & Events
919-214-9058 or via email at Katkinson@ncafp.com