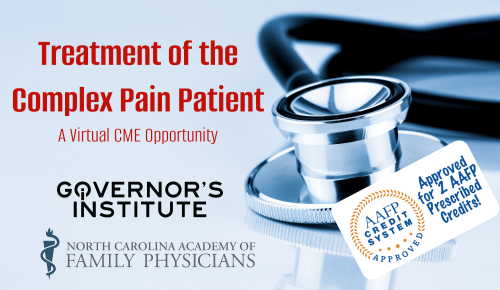 Celebrate your commitment of providing the best possible care to your patients with this fantastic learning opportunity!
If you have never attended an NCAFP conference, we warmly invite you to join us soon and experience firsthand what all the buzz is about. You'll enjoy a CME program that is guaranteed to leave your family medicine heart refreshed and re-energized. On behalf of the NCAFP, thank you ALL for what you do for your patients and communities every day. We appreciate you, and we are so proud of you!
Kathryn Atkinson, CMP
Director of CME & Events
919-214-9058
Save These Dates in 2023 for Terrific
NCAFP CME & Networking Opportunities
2023 Virtual Complex Pain Project
Tuesday, May 2, 2023 or Saturday, May 6, 2023
From your favorite location!
2023 Virtual Summer Symposium
Saturday, June 24, 2023
From your favorite location!
Approximately 6 credits
Networking Dinner with 30-Minute Hot Topic Exchanges – Chapel Hill
Tuesday, September 19, 2023
UNC Family Medicine Center
Approximately 1.5 credits
2023 Winter Family Physicians Weekend
Thursday, November 30 – Sunday, December 3, 2023
Omni Grove Park Inn | Asheville, NC
Approximately 30 credits
Our events are among the best things we get to do for our members!
Visit our Event Spotlight Photo Albums Here!

Have Questions?
Contact Kathryn Atkinson, CMP
Director of CME & Events
919-214-9058 or via email at Katkinson@ncafp.com