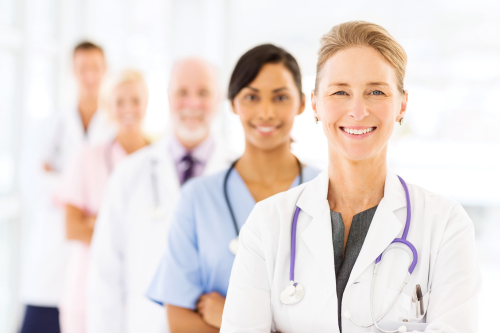 Maintenance of Certification
The American Board of Medical Specialties (ABMS) descibes Maintenance of Certification (MOC) as a system of ongoing professional development and practice assessment and improvement. It challenges physicians to focus on the continuous development of their skill set, especially those skills that enable them to function effectively in inerprofessional teams, integrated systems of care, and community settings.
The American Board of Family Medicine (ABFM) utilizes MOC to continually assess ABFM Diplomates. The ABFM's implementation of MOC, called Family Medicine Certification, has four basic components:
PROFESSIONALISM
Board certification is about setting high standards for self-regulation in our specialty. Professionalism refers to maintaining standards of competence and integrity, which you demonstrate throughout your career and is assessed as part of your participation in Family Medicine Certification.


SELF-ASSESSMENT AND LIFELONG LEARNING
The purpose of this component is to help you assess and enhance the clinical knowledge and skills important to provide high-level patient care. These activities allow you to self-assess your knowledge in a health topic that is self-chosen to be relevant to your area of practice.


COGNITIVE EXPERTISE
The purpose of the periodic examination (either one-day or longitudinally) is to measure the knowledge that sets you, the board-certified family physician, apart from non-physicians and other non-certified medical practitioners with less training and experience. It serves to assure the public that you are up to date and aware of best practices in medical care in the wide spectrum of illnesses treated by family physicians.


PERFORMANCE IMPROVEMENT
The purpose of this component is to demonstrate that you are able to reflectively look at your practice, identify opportunities to improve the care of patients, or the processes of care delivery, and then to develop and implement an intervention that would address the performance gap.
CONTINUOUS CERTIFICATION PROCESS
To maintain your certification, you will need to complete all requirements of the Continuous Certification Process. This process is divided into continuous 3-year stages, with an examination every 10 years. Within each stage, there are minimum requirements for Knowledge Self-Assessment and Performance Improvement activities, as well as total points and CME credits. Every 10 years, you may choose to either take the one-day examination or participate in the alternative Family Medicine Certification Longitudinal Assessment (FMCLA) method for demonstrating cognitive expertise. Additionally, you must always remain in compliance with ABFM Guidelines for Professionalism, Licensure, and Personal Conduct. ABFM recommends that you participate in at least one certification activity per year to say current with your certification. However, because that's not always possible, there is flexibility built into the process and the required activities may be completed at any time during each three-year stage.
The AAFP offeres a number of resources explaining Maintenance of Certfication here.