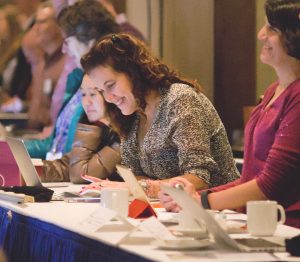 Meeting your CME Needs … and Exceeding your Expectations in 2019
Experienced expert speakers | Timely topics Terrific locations | Flexible schedules
We listened to your feedback about the lecture topics you want and need. Quality and exceptional CME, presented by professional and experienced faculty, continues to be our standard. Take advantage of these terrific medical education opportunities, take home a pearl from every lecture, and continue providing exceptional care to your patients in 2019.
Visit this link for 5 terrific CME opportunities in 2019
You will always find creative and out-of-the-box learning opportunities at our CME events:
Audience-response technology
Case-based study workshops
Interactive-learning workshops
Hands-on practice sessions
Timely panel discussions
Innovative product theaters
Convenient mobile conference app
Listen to what our attendees are saying:
This was by far one of the most beneficial/valuable conferences I have attended as far as relevant content that I can actually use in my daily practice. I plan to return in future years.
Always a great experience... that's why even though I no longer live in NC, I keep coming back.
Select pearls that can be applied to daily practice. Useful to hear how other practice models are developing to address need for better population management.
Excellent conference. The mobile app was great and very user friendly. It made following the lectures easy and very convenient.
Excellent meeting. Good topics, good speakers, excellent food, excellent accommodations.
It was very well done - I really enjoyed the conference and felt very comfortable physically and challenged mentally.
This is the best organized conference I have attended. The app functionality was incredible. I already can't wait to come next year.
Very nice venue! I am already planning to come back for next year. Great job!
Overall, great topics, a lot of variety, and excellent leadership in our academy. Very good. Love this meeting.
There were clinical pearls in all lectures. I really like the fact that the app was available with ability to preview power point presentations.
It was encouraging that I was affirmed in some areas. It was good to learn from some of the exhibitors about new tests that are now available - molecular DNA cultures, screening for colon cancer, skin bx for peripheral neuropathy. It was also good to see of my residency classmates that I had not seen in many years.
Found many of the workshops very useful. Lipids, asthma, allergic rhinitis and ACE inhibitor workshops were most pertinent to my current practice.
I feel more confident to deliver high quality care and family physicians are important!
Family docs are awesome.
NCAFP continues to be a leading state chapter. Thank you for a great conference.
Have questions or need more information about our CME opportunities?
Contact Kathryn Atkinson, CMP | Manager of Meetings & Events, at 919-214-9058 or via katkinson@ncafp.com.