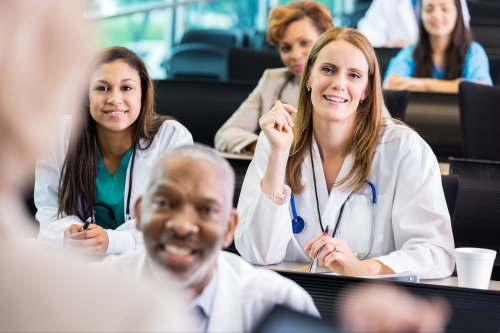 General CME Requirements for AAFP/NCAFP Members
Remember, to be a member of AAFP, you must complete 150 hours of CME every three years.
This must include 75 AAFP Prescribed Credits

Any educational session (including NCAFP meetings) that have been approved for AAFP prescribed credit
Instruction of health professions leaners in formal individualized (preceptorships) or live educational formats. (Maximum of 60 prescribed credits)
Most life support courses
American Family Physicians and FPM journal quizzes
Most activities produced by the AAFP
Scholarly activities (includes credit for a presentation/publication of a paper) (Maximum of 100 prescribed credits)



The Other 75 Hours can be prescribed or elective credit. Example of elective credit include:

Professional enrichment activities including independent examination preparation and informal self-studies, such as reading a medical journal (could still require documentation) (Limited to 25 Elective Credits)
Activities approved by the AOA or AMA that haven't been approved for AAFP Prescribed credit. Remember, AAPF Prescribed requires a family physician's involvement
Other programs created without family physician input and designed for nonphysician healthcare professionals if the content is of interest to family physicians.
Remember: Credit must be reported in the year it is earned (even elective credit)
The NCAFP Meetings Department will file credits earned for all Members who attend our NCAFP CME events. If you have additional CME credit that you need to report to the AAFP, please note the following:
Report your CME online - www.aafp.org
Fax your completed CME reporting form or certificate of participation to (913) 906-6075.
Call the AAFP Member Resource Center at (800) 274-2237 (8:00 a.m.–5:30 p.m. CT).
Mail your completed form to the AAFP Member Resource Center, 11400 Tomahawk Creek Parkway, Leawood, KS 66211-2672.
Complete the post-test or quiz from AAFP-produced self-study programs, such as American Family Physician, Family Practice Management, and FP Essentials. CME credit is added to your transcript on the date the post-test or quiz is completed.
Additional Resources
Types of CME Credit - View the AAFP's CME Credit and FAQs page
Member CME Requirements - Learn about CME requirements for AAFP members.
Member Re-election - Learn about the AAFP three-year CME re-election cycle.
If you have questions or need any additional information regarding AAFP CME Credit for Members, please contact Kathryn Atkinson, CMP | Manager of NCAFP Meetings & Events.