Member Tools & Resources
Below are links to some frequently requested member tools. If you require assistance or have questions about your membership, please contact Tara Hinkle, Manager, Member Services, at (919) 980-5381, or via email at thinkle@ncafp.com.
Welcome Center
The AAFP has designed a member portal for new and existing members. This site is intended to be your one, go-to site for anything member related.
Please take a moment to visit www.aafp.org/welcomecenter. It contains a lot of great information, including FAQs.
Applications
Changes
Member Relocation Application- For current AAFP members moving either into or out of North Carolina and need to submit relocation information to transfer their state chapter membership as required by AAFP bylaws. Please submit the completed application to the AAFP as instructed on the application or email to aafp@aafp.org.
Reinstating or Rejoining
If your membership was recently dropped, you may reinstate your membership by clicking on this image or by calling the AAFP directly at 1-800-274-2237 M-F between 9:00 a.m. - 6:30 p.m. This option will require payment of owed dues.
If your membership was dropped a while back, you may choose to rejoin with a new join date. To do so, please contact the AAFP directly at 1-800-274-2237 M-F between 9:00 a.m. - 6:30 p.m. Membership dues are prorated based on the month you join.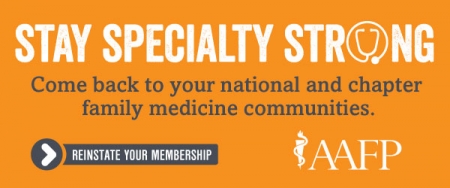 Dues & CME
Dues: Please click on the orange icon below to access your invoice and make your 2022 dues payment. Installments are available throughout 2022. The payment deadline is January 1, 2022, as membership is on a January - December calendar year. You must pay both AAFP and NCAFP dues to maintain your membership as membership is unified. If you have retired, moved, or interrupted practice, please contact the AAFP at 1-800-274-2237 to make necessary changes. Moves outside of NC require a state chapter relocation.
CME: Click here to Find CME, Report CME or Access your CME Transcript