August Monthly Member Spotlight: Dr. Elizabeth Ferruzzi
August 1, 2023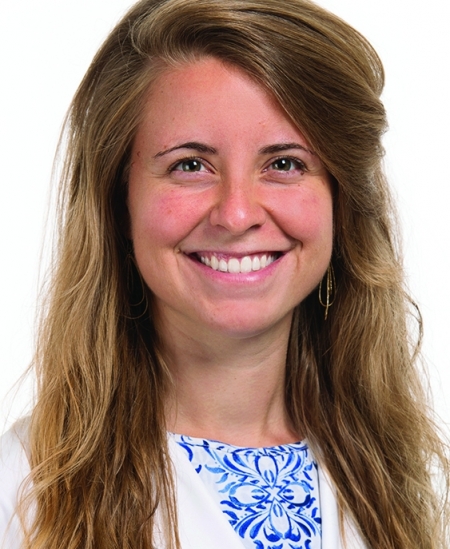 By Kevin LaTorre
Communications and Membership Manager
For August 2023, we're thrilled to feature Dr. Elizabeth Ferruzzi for the NCAFP Member Spotlight!
Dr. Ferruzzi practices at Novant Health Lakeside Family Physicians in Mountain Island, and she just finished precepting for the 2023 NCAFP student summer externship in Concord.
We spotlight NCAFP members who make unique impacts on their patients and communities. If you're providing a unique service, contact us so we can consider spotlighting you as well!
Dr. Ferruzzi came to Family Medicine through her mentors and NCAFP experiences.
Like many first-year medical students, Dr. Ferruzzi was uncertain about the specialty she wanted to pursue. But her education already included a swerve or two: "I first majored in marine biology," Dr. Ferruzzi says. "But in my freshman year, I decided I wanted to work with people rather than doing research on these tiny organisms in the ocean."
When she was on the fence about her future specialty at ECU's Brody School of Medicine, she had the chance to shadow a family physician named Dr. Cherrie Hart in the NCAFP summer immersion program. "I really connected with her," says Dr. Ferruzzi, "and she encouraged me in Family Medicine." Her Family Medicine clerkship the summer after her third year then introduced her to Dr. Geniene Jones in Ahoskie. "I got the chance to live with her family," Dr. Ferruzzi says. "I really saw her work-life balance, which was an immersive experience. She was someone else who encouraged me for Family Medicine."
One of her professors, Dr. Susan Keen, also nudged her toward the specialty. So, too, did the versatility and variety of the work that family physicians do. "I liked a little bit of each specialty," she says, "and Family Medicine was great because it gave me the chance to do it all. It also had the doctors I enjoyed spending time with, because they were the people I aspired to be."
Today, Dr. Ferruzzi practices in a small Novant Health clinic in Mountain Island (northwest of Charlotte), which she fondly calls "an old-fashioned doctor's office" where patients can drop by casually. The clinic where she works is one of the oldest Novant clinics in the area, which means that she treats patients who have been there since well before she arrived. "I'm only two years in but I've really fallen in love with my patients," Dr. Ferruzzi says. "They're an incredible mix of ages and backgrounds. I usually swing from seeing a five-year-old child to then seeing an 84-year-old woman whose daughter is worried about dementia. It's complicated, but I'm always on my toes, and my days are never monotonous."
Her NCAFP experience continues today: she herself mentors medical students.
In addition to completing her first NCAFP summer program, Dr. Ferruzzi also held leadership positions with the Academy: she was both a student and resident member of the board. "I've been involved with the NCAFP for a long time," Dr. Ferruzzi says. "When Perry [Price] reached out about precepting, I immediately jumped on it because I miss teaching. Being in clinic is great, but what I miss most about residency is teaching. And I was able to do this program as a student, and I loved it."
For two weeks in July, Dr. Ferruzzi mentored and hosted Zoe Greene, a second-year medical student from ECU's Brody School of Medicine. "Zoe was great," she says. "She came to live with me and saw the crazy life with my two young boys, the whole family medicine aspect that goes beyond just being in clinic. Zoe just got to come along for that ride."
Just as the NCAFP intends for every student-preceptor pairing, Dr. Ferruzzi and Zoe matched one another well. "It was an awesome match, and Zoe was really prepared," Dr. Ferruzzi says. "She's great, and my patients all enjoyed her. I felt like I had a real comrade for a couple of days."
Just like she was once pointed by mentors toward Family Medicine, Dr. Ferruzzi says she is pointing Zoe toward Family Medicine. "She's still on the fence," Dr. Ferruzzi admits, "and so of course I'm very gently persuading her to come to Family Medicine, because it's so great."
We'd like to thank Dr. Ferruzzi on behalf of the patients she treats and the students she mentors!
If you're providing unique service to your practice and community, please contact us and let us know.