NCAFP Members Advocate for Their Profession and Patients at the General Assembly
April 21, 2023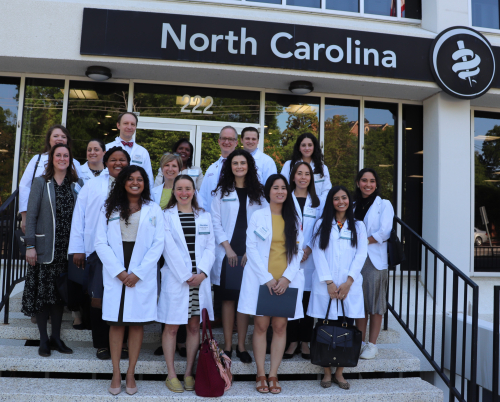 By Kevin LaTorre
Communications and Membership Manager
On April 19, NCAFP members and staff met with their state representatives to explain the value of primary care in North Carolina, stress the state's need for increased investment in primary care and reduced administrative burden for family physicians, and advocate for incentives that would bolster the workforce of future doctors. In addition to legislative advocacy, the 22 NCAFP members who attended also built relationships with their representatives and with one another.
Relationship-building to support informed healthcare policy for North Carolina guided White Coat Wednesday and its planning. "We're wanting to build long-term relationships," NCAFP Executive Vice President Greg Griggs told members on Wednesday morning. "Think of building relationships with your lawmakers like building continuity of care with your patients. It's not a one-off meeting."
Learning the Legislature
White Coat Wednesday began with an early morning advocacy orientation and planning meeting. Each participant was scheduled for two to three meetings in both the Legislative Building and the Legislative Office Buildings at the General Assembly. Dr. Lisa Cassidy-Vu met with Sen. Paul Lowe, a Democrat from Forsyth County. Afterward, she said, "He gave me his card for following up. It was so eye-opening."
Campbell University medical student Mark Bushhouse went with Dr. Corinna Myers to meet with Sen. Val Applewhite for their first meeting of the day. He said it was a success, though not quite what he'd expected. "It's educational but more laidback than I'd anticipated," he said. "I would definitely recommend it."
By the end of the event, NCAFP members had attended over 30 meetings. Members with time between meetings congregated in the 1300 court of the Legislative Building, recapping their visits and sharing insights. But usually they were on the move, either participating in smaller meetings with representatives or observing meetings like the Senate Health Committee meeting, where five health policy bills were adopted by the committee.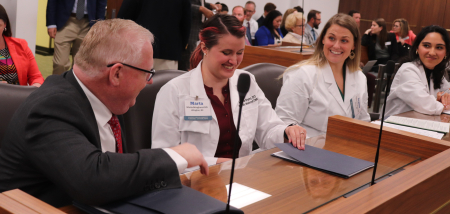 For first-time attendees like Dr. Adeem Tahira, experiencing the legislature first-hand was instructive. "I'm encouraged by everyone wearing coordinated t-shirts for organized trips here," Dr. Tahira said. "It's nice to see people getting involved for their communities."
White Coat Wednesday Attendees Also Learned to Educate
Meeting with legislators included clarifying what Family Medicine is, how family physicians are trained, and the benefit that having a strong home health base gives to patients in our state, attendees often found.
Dr. Tahira said she spent time explaining the full scope of the specialty in her meetings with lawmakers who were previously unaware of how family physicians treat patients from cradle to grave. Clarifying and supporting the versatile care that family physicians provide has been a long-time goal of the NCAFP, and so sharing it with policymakers directly through members is crucial. It meant that advocates like Dr. Tahira were teaching their representatives at the same time that they were also learning to better advocate for the specialty.
In particular, the NCAFP's group meeting with Rep. Kristin Baker, MD (R) and Rep. Tim Reeder, MD (R), highlighted the singular role that family physicians play in giving accurate medical input to lawmakers. The two representatives are the only physicians in the legislature (Sen. Baker is a psychiatrist, while Rep. Reeder is an emergency doctor). Addressing several members at the meeting, Rep. Baker said, "You all know what's going on in your communities. The more you can come into our discussions, the more we will trust you with our questions."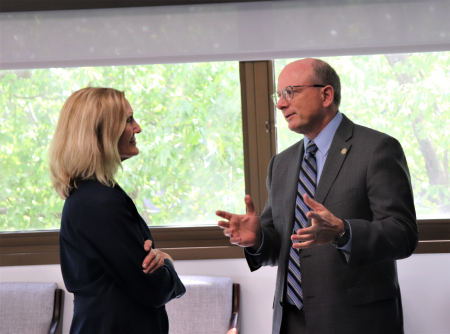 "You're coming to advocacy from a good place," said Rep. Reeder, "since you have the patient-physician relationship. You know more about health care than most of the people here."
As the 2023 legislative session continues into the summer and work on the budget continues, the NCAFP benefits from relationships where family physicians can speak with policy makers who trust their expertise. These types of relationships and open channels of information for health policy can take time to cultivate. First-time advocates from April 19 may well become trusted physicians at the forefront of state-level health policy, like NCAFP President-Elect Dr. Garett Franklin working with other stakeholders to create the NC Office of Violence Prevention, or Secretary-Treasurer Dr. S. Mark McNeill advocating better digital-workflow quality measures for both state and national policy.
Both Dr. Franklin and Dr. McNeill attended White Coat Wednesday and accompanied first time participants to meetings, in addition to attending their own meetings with representatives. The NCAFP specifically designed this system to encourage support and relationships between members. Informally, this same work happened at the end-of-day lunch in the legislative cafeteria. There, members reconnected and recapped their day over a shared meal.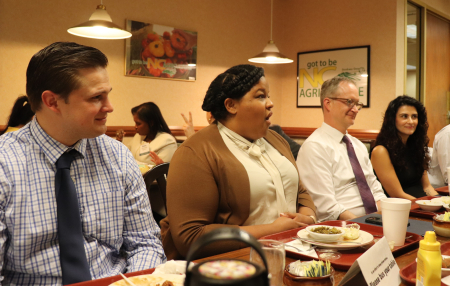 "You all had great conversations with your elected officials," Griggs told the group after the event ended, "and I think you made a significant impact. This was one of the most successful White Coat Wednesdays we've ever had, and that's all because of you."
Thank you to every member who joined us, and thank you to every lawmaker who met with our members!
About the NCAFP
The North Carolina Academy of Family Physicians, Inc. (NCAFP) is a nonprofit professional association headquartered in Raleigh which represents over 4,300 family physicians, family medicine residents, and medical students across the state. It is the largest medical specialty association in North Carolina and is a constituent chapter of the American Academy of Family Physicians, based in Leadwood, KS.