Our June 2023 Monthly Member Spotlight: Dr. Melissa Ratliff
June 2, 2023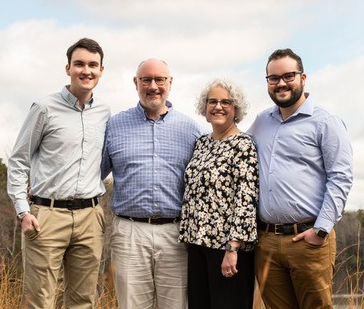 For June 2023, we're thrilled to feature Dr. Melissa Ratliff for the NCAFP Member Spotlight!
She is the founder of Ratliff Integrative Family Medicine in Waxhaw, NC — which just opened in May 2023!
We recognize NCAFP members who make unique impacts on their patients and communities. If you're providing a unique service, contact us so we can consider spotlighting you as well!
Dr. Ratliff Took the Scenic Route to Family Medicine
"I went to medical school at age 35 with a three-year-old and an eight-year-old," says Dr. Ratliff. She explains that she had become "stir-crazy" as a stay-at-home mother and so told her husband she wanted to attend medical school. Dr. Ratliff had already graduated from Davidson College near Charlotte with a degree in chemistry and worked as a chemist for a time. But she wanted to return to school for the medical career she'd originally planned at Davidson: "I craved that intellectual stimulation," Dr. Ratliff says.
During her time in medical school, she found herself drawn to Family Medicine by her own family doctor, Dr. Sinclair McCracken. "She was a great mentor to me as my family doctor," says Dr. Ratliff. "She's the one who encouraged me to pursue the specialty."
Once she'd graduated from Eastern Virginia Medical School, Dr. Ratliff returned to North Carolina to attend the Carolinas Medical Center Family Medicine Residency. After residency, Dr. Ratliff would spend nine years at Novant Health, including five years as the lead physician in her practice. But during her time there, she began thinking about what she wanted from the future: "As things played out in life, I thought maybe there were some other options," she says. "Maybe I needed something a little less stressful, because the work was really tough."
To explore other options, Dr. Ratliff left Novant Health to take up concierge medicine alongside an integrative medicine fellowship. By then, she began planning her next step: "I'd always had in the back of my mind the idea that I'd like to have my own practice someday."
After her Time to Plan and Learn, Dr. Ratliff Opened That Practice on May 1
She says that she has just enough room for her existing patient population. "My previous practice is about 10 minutes away," Dr. Ratliff says, "and so I have a large patient base already down here." She is currently renting a room from a clinic to see those patients in person. "I just have an 11-by-11 room as my office, with my desk, my exam table, and all my equipment." This size and lack of formality suits what Dr. Ratliff wants for her patients, she says. "It's a quaint little room," she says, "just a good place to talk. It feels like home."
The direct primary care model at Ratliff Integrative Family Medicine will also have the personal touch that first motivated Dr. Ratliff to become a doctor in the first place. "The frustration with practicing in the traditional fee for service world is not having control over your schedule or which patients you can see," she says. "I really wanted to be free to have autonomy and practice medicine the way I dreamed it would be: having time to connect with my patients."
Her time in concierge medicine showed her the benefit of longer visits with her patients, Dr. Ratliff says. "My patient visits were for an hour, even an hour and a half," she says. "I really enjoyed having that experience with my patients instead of the traditional 15-minute appointment." That's the experience she's now building for her patients in Waxhaw, and she's glad to do it: "I figured out what I needed to do."
We'd like to thank Dr. Ratliff on behalf of her current and future patients in Waxhaw!
If you're providing unqiue service to your practice and community, please contact us and let us know.