Our March 2023 Monthly Member Spotlight: Dr. Blake Fagan
February 28, 2023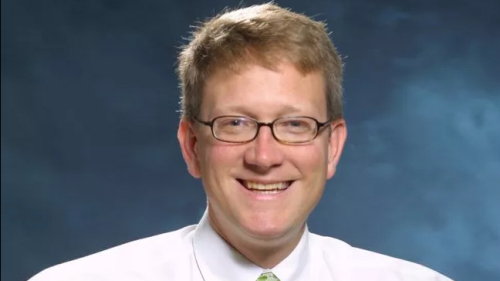 For March 2023, we're thrilled to feature Dr. Blake Fagan for the NCAFP Member Spotlight!
We want to recognize our members who make unique impacts on their patients and communities. If you're providing a unique service or activity, contact us so we can consider spotlighting you as well!
How Dr. Fagan Came to Family Medicine
Dr. Fagan today serves as the Chair of Family Medicine in the Mountain Area Healthcare Education Center (MAHEC) in Asheville. But his path into Family Medicine didn't become clear until the end of his time as a student at the Univ. of Missouri, when his passion for both science and people led him to apply for medical school. "In medicine you'd really have the chance to interact with people in a scientific setting," Dr. Fagan says. "That's why I applied for medical school."
He was accepted into Vanderbilt University's School of Medicine in Nashville, where he studied until 1998 and learned that he wanted to pursue Family Medicine as a physician. MAHEC in Asheville combined the mission, the peers, and the faculty Dr. Fagan knew would support that. "MAHEC is here to take care of everyone, including the poor and marginalized," he says, "and then train the next generation of learners to do the same thing, particularly in Western North Carolina. That was a really good mission that I liked."
Working with like-minded physicians convinced him to stay at MAHEC after completing his residency in 2001. "I stayed on as faculty because people really believe in the mission," he says. "It's good to have purposeful work, seeing all the patients but then training the next generation of providers to take care of the folks here."
Spotlighting the Good Dr. Fagan Does: Opioid Addiction Treatment and Leadership
Dr. Fagan has stayed with MAHEC Asheville for 25 years, from his residency through to his current position as Department Chair of Family Medicine. His key area of teaching, care, and advocacy is treating opioid use disorders. He first brought the idea of opioid treatment with buprenorphine to MAHEC in 2013, and today this treatment is part of the program's chronic disease management. During that time, the number of patients treated with buprenorphine has risen from five to about 500. "All of our residents get trained in it," says Dr. Fagan, "and all our faculty are trained to screen for opioid use disorders." He now directs office-based opioid treatment services in MAHEC and has given various opioid-use disorder trainings to many Family Medicine residencies around North Carolina.
In 2019 Dr. Fagan served as the North Carolina Clinical Consultant for the Opioid Crisis at the CDC Foundation. His recent work with the NC Attorney General led to Dr. Fagan's role teaching the attorney generals of other state in treating opioid use disorders, national leadership that culminated in his invitation to the White House last month for the bipartisan "White House Removing Barriers to Treatment" event. It also hosted leaders of the national opioid response, including Dr. Rahul Gupta, Director of the White House Office of National Drug Control Policy, Anne Milgram, Administrator of the Drug Enforcement Administration, and Dr. Miriam Delphin-Rittmon, Assistant Secretary for Mental Health and Substance Use at the U.S. Dept. of Health and Human Services.
"It was great to be able to celebrate the passing of the MAT Act," Dr. Fagan says. "There's now no longer a barrier to writing buprenorphine for patients, it has really removed barriers for them." For a bio of Dr. Fagan, click here.
We'd like to thank Dr. Fagan for his work on behalf of his Asheville patients and the residents he teaches.
And if you're providing unique service to your practice and community, please contact Kevin (kevin@ncafp.com) and let us know!