NCAFP Hosts Medical Residencies and Students at the Family Medicine Academic Summit and Family Medicine Day 2023
February 23, 2023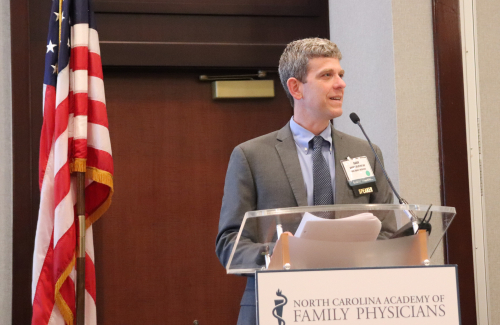 By Kevin LaTorre
Communications and Membership Manager
This past weekend, the North Carolina Academy of Physicians (NCAFP) hosted over 200 family physicians, residents, and medical students at the Sheraton Imperial RTP for two events: the 2023 Family Medicine Academic Summit – Point of Care Ultrasound: Beyond OB & MSK (Academic Summit) and the 2023 Family Medicine Day (FMD). Both events combined CME sessions and keynote lectures with the member reunions and socializing that anchor every NCAFP gathering.
During the Academic Summit, academic faculty from Family Medicine residency programs and medical schools from around the state taught and discussed best practice applications of Point of Care Ultrasound (POCUS), shared curriculum guidance for training residents, and discussed what it really means to learn and teach in a collaborative. On Feb. 17, the afternoon started with comments from program co-chairs Dr. Adam Zolotor and Dr. Aaron Lambert. From there, the Academic Summit ranged through lectures, panel discussions, and breakout discussion groups which shared one purpose: pooling the physicians' knowledge of optimal POCUS uses in formal collaborative.
During FMD, medical students from across North Carolina joined together for a full day of hands-on clinical training, residency interview prep, and face-to-face conversation with our North Carolina Family Medicine residency programs. Many of the attendees were first- or second-year students experiencing these training courses and interacting with our residency programs for the first time, which made their attendance even more important. After all, attending NCAFP events makes medical students five times more likely to match into the specialty compared to those who don't, according to our reporting since 2016.
"A Meeting of Friends": Members Enjoyed the Social Pulse at Both Events
Throughout the weekend, attendees enjoyed the togetherness and camaraderie built into each NCAFP event. "The educational offerings are great," Dr. Lambert said on Friday night, "but the best collaborative happens in unstructured social time. Tomorrow that means our breakout discussions, and tonight that means our social in the lobby." The Friday social proved him correct, as members gathered to catch up with one another. Those breakout discussions Dr. Lambert mentioned were also as social as they were effective, when members traded jokes and recalled in-group treatment experiences as often as they gave one another practical advice.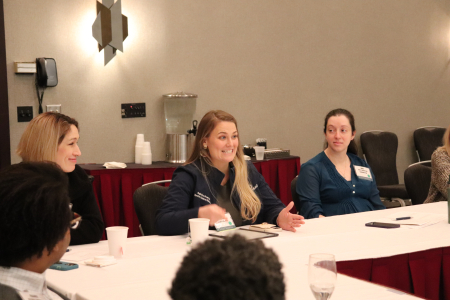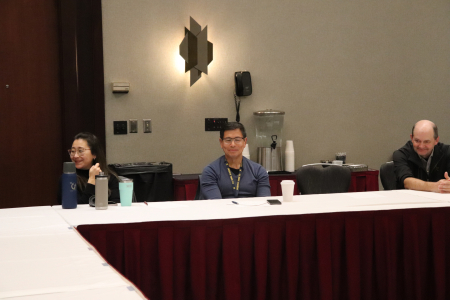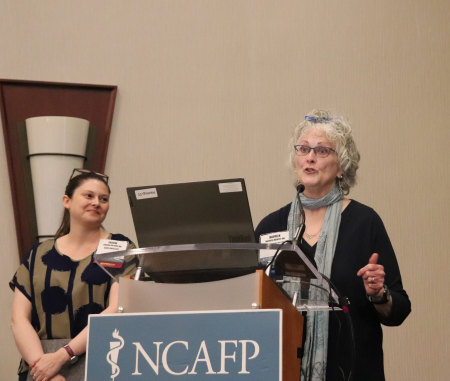 "It's a very good day," says NCAFP Director of CME and Events Kathryn Atkinson, "and the fellowship and camaraderie centered around timely education and meaningful conversations make it even better. This event is always so rewarding for everyone."
The attendees' social excitement rolled through Saturday morning into the start of Family Medicine Day, when NCAFP Foundation President Dr. Maureen Murphy introduced keynote speaker Dr. Rhett Brown by saying, "It's always a meeting of friends here."
During the FMD sessions, medical students socialized as intentionally as they learned during their training workshops. The all-day event gave them the chance to meet with their counterparts from other medical schools, which doesn't happen often but crucially builds their sense of belonging to a larger medical community. "This is where we meet other medical students, especially from other medical schools," says Hoon Kong, an MS2 from Brody School of Medicine. "It's the kind of event that makes me think of us all being back here as residents or presenting here as faculty someday."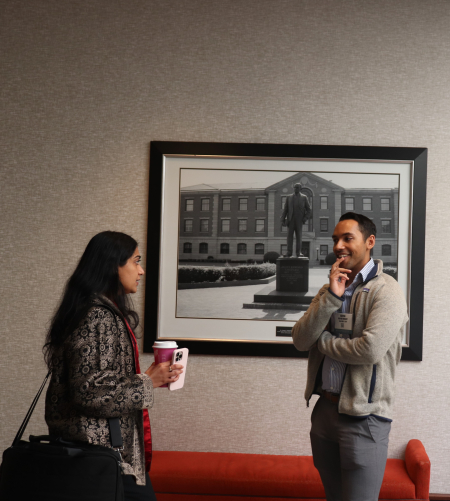 According to NCAFP Manager of Workforce Initiatives Perry Price, that connection is the point. She says, "It's incredible to witness this huge group of medical students from all over learning more about the variety of paths available in Family Medicine while feeding off the energy and enthusiasm of their peers! There isn't a comparable experience."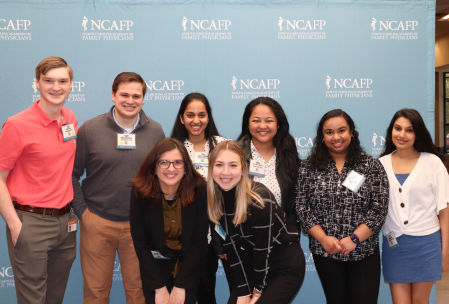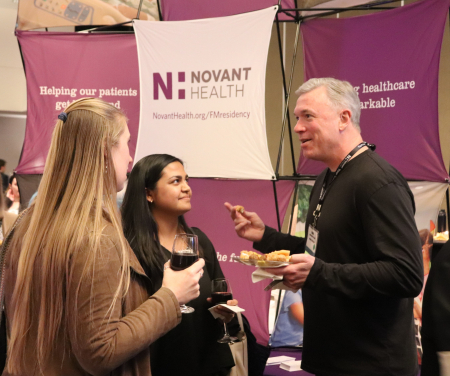 The schedule of FMD technically included only one opportunity for open-ended social gathering: the Residency Fair on Saturday night. But that never stopped the attendees from congregating together during the 15-minute passing periods between sessions. Some took official group pictures in front of the NCAFP backdrop, while others chatted over refreshments. However they met together, the students enjoyed themselves. "I've been looking forward to being surrounded by this tribe of people interested in improving North Carolina's health care," said Ross Marnock, an MS3 at Campbell University School of Osteopathic Medicine. "And just having fun, also. Everyone wants to be here, we're taking our time on a Saturday."
Both events brought the wide-ranging education attendees will actually use.
CME at the Academic Summit began only 10 minutes after the start of the conference, when Dr. Lambert and Dr. Zolotor presented, "What is a Collaborative and What Does ACGME Require?" There would be another two sessions on Friday and four more on Saturday morning, outlining best practices when it comes to building POCUS programs and implementing POCUS education in our residency programs. The presenters included Dr. Audy Whitman (ECU), Dr. Carina Brown (Cone Health), Dr. Ryan Paulus (UNC), and Dr. Puja Dalal (Novant Health Cornelius).
Guest faculty offered in-depth presentations with key take-aways. For example, Dr. Dalal headlined the Saturday morning CME sessions with her presentations on POCUS Credentialing and POCUS Billing, where she explained how she became the Director of POCUS by seeking to provide "excellent medical care to all persons in a compassionate and thoughtful manner." For the conference attendees to understand of how they (and their learners) can earn credentials for regular ultrasound treatments, Dr. Dalal outlined the steps she'd learned for accrediting, certifying, and privileging family physicians to use POCUS in patient care. Then she stayed on stage for an open Q&A, moving back through the slides and across the stage to answer attendees' questions.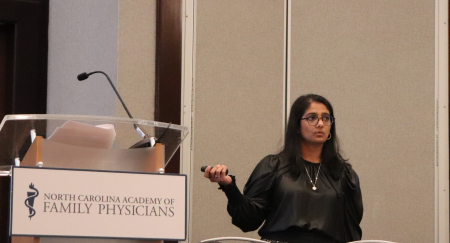 The three breakout discussions shared this same in-depth approach. There, attendees opened the conference's topics for deeper discussion and proposed ideas to better coordinate their POCUS training between their organizations. Coordinated POCUS education is vital to ensuring that patients across the state are receiving consistent levels of excellent care. With residency programs at various stages of implementing training, opportunities to come together and collaborate are vital for sharing useful input about on-the-ground implementation.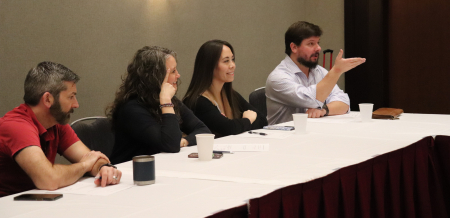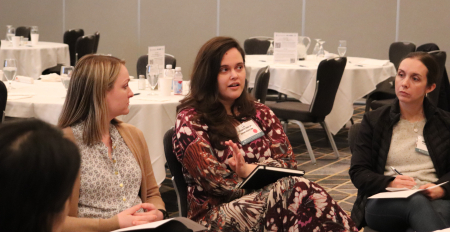 Family Medicine Day, in turn, covered a full spectrum of topics that Family Physicians may come across in practice. Students from all five of our NC medical schools participated in workshops like Skin Procedures, Wound Care, Suboxone Secrets, Endometrial Biopsies, and many others hosted by our residency programs. The Mock Interview workshop was especially helpful to attendees. "We don't get a lot of that application training in our third year," said UNC medical student Christina Frederick. "It's all good. I was here last year, and it's just as good today."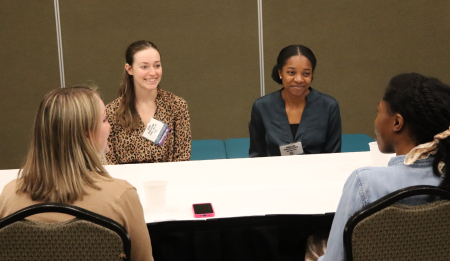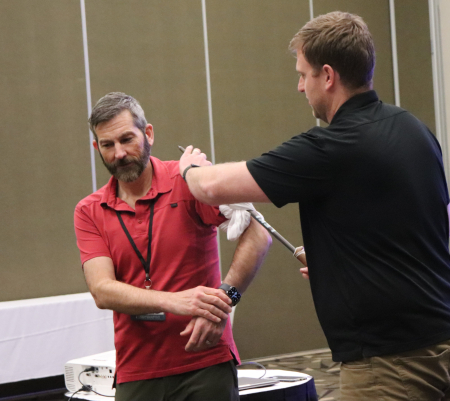 Several sessions included hands-on training to practice the procedures attendees were learning for the first time, like suturing, wilderness medicine with tourniquets, osteopathic approaches to headaches, and POCUS training. Several also included Q&As so students could clarify the concepts with the physicians teaching them. "After the workshops, I feel like I can do these procedures," said first-year UNC medical student Nicholas Wells. "They're all five out of five for me."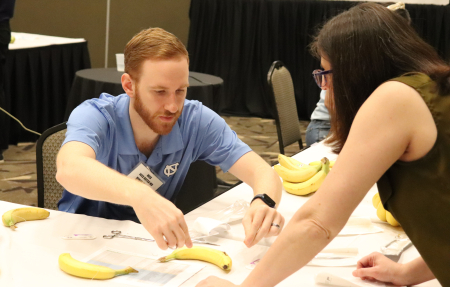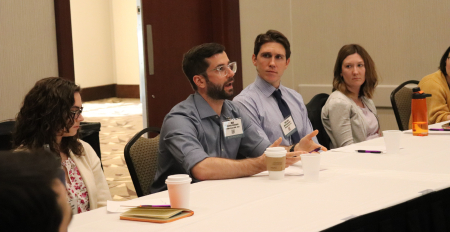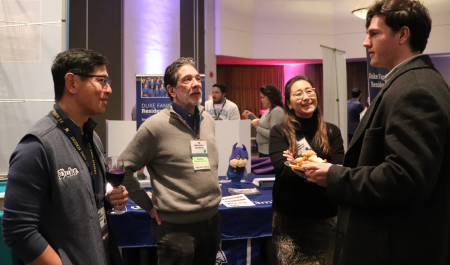 Once the formal workshops and sessions ended on Saturday, the students' education only continued with the Residency Fair. For over two hours, faculty and residents from 16 North Carolina residencies hosted booths where interested students could chat and learn more about their programs. The fair gave a key two-way introduction in this social setting: residencies met their future applicants, and the medical students met their prospective destinations. Any medical student awaiting a residency match right now can tell you that the process is extremely stressful. The FMD Residency Fair deflates some of that stress by encouraging relationships between the applicants and the residencies.
Thank You to Our Attendees and Residency Programs!
We'd like to thank all the guests who joined us this past weekend, not only for your insights and expertise but also your good company. We hope that you'll consider joining us again at a future NCAFP event — make sure to learn more about future opportunities!
We'd also like to thank the residency programs who hosted workshops this year: Atrium Health Carolinas Medical Center Family Medicine Residency, Atrium Health Cabarrus Family Medicine Residency, Cone Family Medicine Residency Program, Duke Family Medicine Residency Program, ECU Family Medicine Residency Program, Harnett Health Family Medicine Residency Program, MAHEC-Asheville Family Medicine Residency Program, MAHEC-Boone Family Medicine Residency Program, MAHEC-Hendersonville Family Medicine Residency Program, Novant Health Family Medicine Residency Program Cornelius, Novant NHRC Wilmington Family Medicine Residency Program, Sampson Regional Family Medicine Residency Program, UNC Family Medicine Residency Program, and Wake Forest University Family Medicine Residency Program.
About the NCAFP
The North Carolina Academy of Family Physicians, Inc. (NCAFP) is a nonprofit professional association headquartered in Raleigh which represents over 4,300 family physicians, family medicine residents, and medical students across the state. It is the largest medical specialty association in North Carolina and is a constituent chapter of the American Academy of Family Physicians, based in Leadwood, KS.