Viviana Martinez-Bianchi, MD, Named Family Physician of the Year
December 4, 2021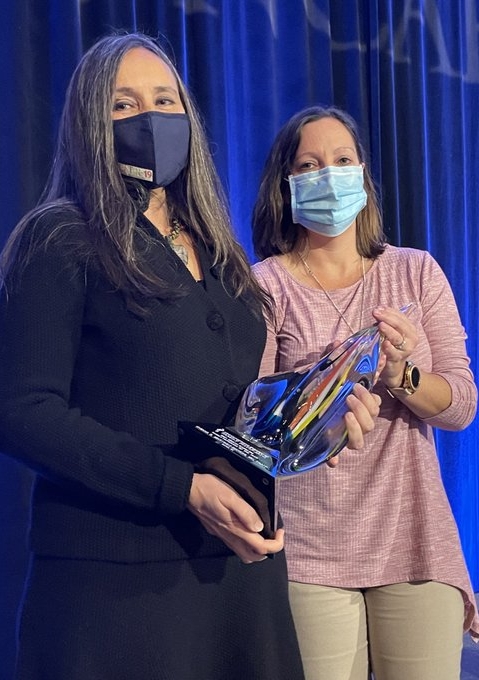 Dr. Viviana Martinez-Bianchi, a family physician committed to health equity in her community and around the world, has been named North Carolina's 2021 Family Physician of the Year by the North Carolina Academy of Family Physicians (NCAFP). The honor is the most prestigious award from the NCAFP, the state's largest specialty medical association, comprised of more than 4,300 members.
Dr. Martinez-Bianchi is Director of Health Equity for the Department of Family Medicine and Community Health at Duke University. She is a founder of the Latinx Advocacy Team & Interdisciplinary Network for COVID-19, better known as LATIN-19. The group was established in March of 2020 to address inequities in the COVID-19 pandemic response, the health system in general and communities in Central North Carolina.
One of her letters of nomination came from Dr. Mandy Cohen, Secretary of the NC Department of Health and Human Services. Dr. Martinez-Bianchi became a special advisor for the Department during the pandemic.
"At the peak of the pandemic, almost half of positive COVID-19 cases in North Carolina were among Latino residents, despite representing less than 10 percent of the population," Secretary Cohen said in her letter. "Turning this trend around was not easy and would not have been possible without the leadership and partnership of LATIN-19, founded by Dr. Martinez-Bianchi."
Prior to becoming Director of Health Equity, Dr. Martinez-Bianchi served as Program Director for the Duke Family Medicine Residency Program. One of her former residents described her this way:
"She is a fighter, fighting for patients, fighting for the health of the public, and always fighting for the greater good. She knows how to stand up for the little guy, the underrepresented, the vulnerable. And she does so with a rare combination of grace and fire in her belly."
Dr. Martinez-Bianchi truly epitomizes bringing healthcare into the community, in her case a community that reaches the world.
At the state level, Governor Cooper appointed her to the Andrea Harris Social, Economic, Environmental and Health Equity Task Force. At the national level, she chaired the Health Equity Team for Family Medicine for America's Health. And at the international level, she is on the Executive Committee of WONCA, the World Organization of Family Doctors, and is the liaison from WONCA to the World Health Organization.
A military coup in her home country of Argentina when she was only 11 years old fueled Dr. Martinez-Bianchi's search for knowledge and justice. Since that time, she has had an unwavering commitment to the underserved and the marginalized.
Dr. Martinez-Bianchi completed medical school at the National University of Rosario Faculty of Medicine in Argentina prior to coming to the United States. She completed her family medicine residency at the University of Iowa Hospitals and Clinics. She has been on faculty at Duke for over 15 years. She is married and has one son.