Saturday, March 9th, 2019 ~ 12th Annual Family Medicine Day!
Check back soon for more details about 2019 Family Medicine Day and a link to register!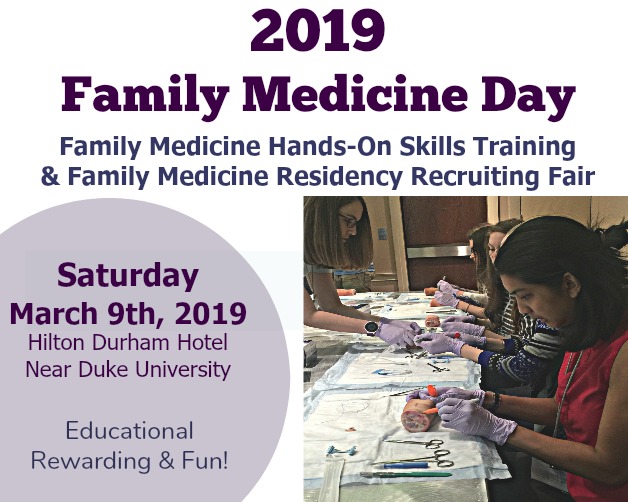 The North Carolina Academy of Family Physicians and the North Carolina Area Health Education Centers (NC-AHEC) program are excited to partner once again to present North Carolina's 12th Annual Family Medicine Day.
This fantastic one-day event is North Carolina's premier family medicine residency recruitment conference.    It is a wonderful professional networking opportunity that will introduce you to residents, faculty and students from across the state of North Carolina as well as neighboring states.  You do not want to miss this incredibly fun, educational and hands-on day!
Free for all medical students
Attendance priority given to graduating classes of 2020 & 2021
Inspirational lunch keynote speaker
4-hours of clinical skills workshops
Residency recruiting fair with North Carolina and other regional residency training programs
Free overnight hotel accommodations if needed
Click here for a recap from Fam Med Day 2017!
This Saturday event is centrally located in Durham, NC.  Join us for a day filled with professional relationship building while increasing your clinical skills and learning more about family medicine.
Registration will open in early January for exhibitors and medical students graduating in 2020 or 2021. Class of 2022 students may register beginning 2/9/19.   Online registration CLOSES March 1st, 2019.
We look forward to seeing you there!
Special Note: This event is a residency program recruitment conference for FM programs to meet and recruit medical students, it is a not a physician recruitment conference.  Physician recruiters do not have access to residents or physicians for recruitment purposes.
The 12th Annual Family Medicine Day will be held at:
The Hilton Durham Near Duke University Center
3800Hillsborough Road
Durham, North Carolina 27705
Get Driving Directions
Have Questions? Contact Tracie Hazelett, Mgr. Medical Student & Residency Relations @ the NCAFP via telephone at (919) 980-5357 or by e-mail at thazelett@ncafp.com