Details regarding FAMILY MEDICINE DAY 2020 will be forthcoming.
Please see below for 2019 info to see what you have to look forward to and check back later!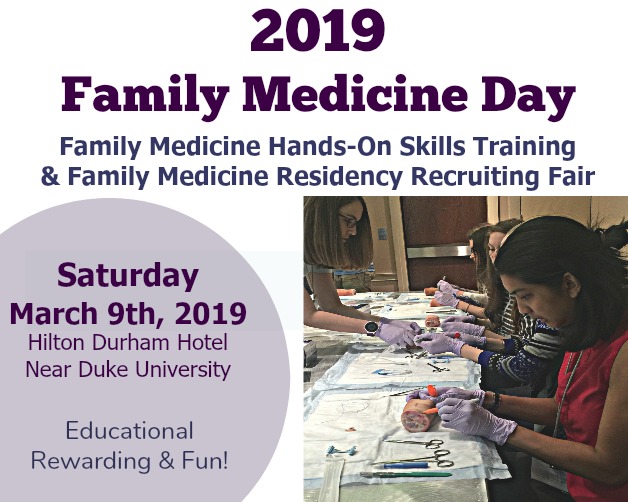 The North Carolina Academy of Family Physicians and the North Carolina Area Health Education Centers (NC-AHEC) program are excited to partner once again to present North Carolina's 12th Annual Family Medicine Day.
This fantastic one-day event is North Carolina's premier family medicine residency recruitment conference.   Centrally located in Durham, NC it's easily accessible for all medical students.  This wonderful professional networking opportunity will introduce currently enrolled medical students to residents, faculty and other students from across the state of North Carolina & neighboring states.  You do not want to miss this incredibly fun, educational and hands-on day!
Free for all medical student members of the AAFP (registration fee will be refunded for full event participants)
Non-member medical students are welcome to attend; however registration fees will apply
Inspirational keynote lunch speaker
5-hours of clinical skills workshops
Attendance priority given to graduating classes of 2020 & 2021
Residency recruiting fair with North Carolina and other regional residency training programs
Free overnight hotel accommodations if needed (only available to AAFP student members traveling distances greater than 75 miles)
Registration is currently open for all exhibitors and for medical students graduating in 2020 or 2021.
2/9/19 – Class of 2022 & beyond medical students may register.
2/25/19 – NOON – Hotel Block closes – no guarantee of free or reduced rate hotel rooms after this time.
3/3/19 – 11:59 PM – Online registration CLOSES.
We look forward to seeing you there!
Special Note: This event is a residency program recruitment conference for FM programs to meet and recruit medical students, it is a not a physician recruitment conference.  Physician recruiters do not have access to residents or physicians for recruitment purposes.
The 12th Annual Family Medicine Day will be held at:
The Hilton Durham Near Duke University Center
3800 Hillsborough Road
Durham, North Carolina 27705
Get Driving Directions
Timeline for the Day:
9:30 AM -10:30 AM – FMIG Student Leadership mtg
10:30 AM – 11:00 AM – Registration/pick up boxed lunch
11:00 AM – Keynote Speaker
Noon – 5:45 PM – Clinical Skills Workshops
5:45 PM – 8:15 PM – Refreshments and Exhibit Hall / Residency Recruitment Fair
2019 Workshop Offerings Include: 
Basic Suturing Techniques
Geriatric Care: An Interactive Approach
Get LARC: Getting Hands-on with Long-Acting Reversible Contraception
Hey, You're a doctor! Responding to Emergencies When Everyone Knows What You Do
Knee Exams and Injections
Let's Catch a Baby!
Mock Residency Interviews
Musculoskeletal Ultrasound
Population Health Skills for the 21st Century
Residency Interviews and What to Expect During the Intern Year
Sphenopalatine Ganglion Block Procedure for Acute Headache Management
Have Questions? Contact Tracie Hazelett, Mgr. Medical Student & Residency Relations @ the NCAFP via telephone at (919) 980-5357 or by e-mail at thazelett@ncafp.com