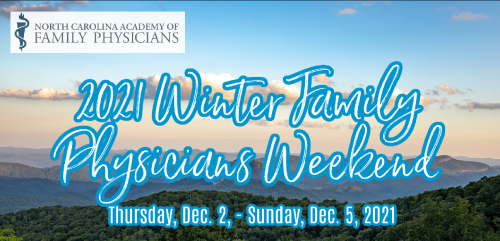 The Mountains are Calling, And We Must Go!
Thursday, December 2 - Sunday, December 5, 2021
Winter Family Physicians Weekend (IN-PERSON)
Omni Grove Park Inn, Asheville, NC
Great news from the NCAFP Meetings Department! Plans are currently underway for a fantastic and long-awaited return to an in-person Winter Family Physicians Weekend. We are thrilled to finally return to the Omni Grove Park Inn, December 2 - December 5, 2021, to reconnect with colleagues and friends during everyone's favorite annual family tradition of CME, camaraderie, and fun.
Program Chair Jay Patel, MD, and Program Vice-Chair Deanna Didiano, DO, will lead the way with timely requested lecture topics such as diabetes, dementia, overactive bladder, influenza, HPV, hyperlipidemia, shingles, precepting, lung cancer, and many more.
More helpful and exciting information about this eagerly anticipated weekend in the Blue Ridge Mountains is available via the conference site.
Save these Dates for more terrific NCAFP CME in 2022
Celebrate your commitment of providing the best possible care to your patients with these fantastic learning opportunities in 2022!
| | | |
| --- | --- | --- |
| Academic Family Medicine Meeting | 2022 Virtual Summer Symposium | 2022 Winter Family Physicians Weekend |
| Friday, April 1 - Saturday, April 2, 2022 | Saturday, August 6, 2022 | Thursday, December 1- Sunday, December 4, 2022 |
| Crabtree Raleigh Marriott - Raleigh | Your Favorite Location! | The Omni Grove Park Inn - Asheville, NC |
Have Questions?
Contact Kathryn Atkinson, CMP | Manager of NCAFP's Meetings & Events at 919-214-9058 or via email at Katkinson@ncafp.com