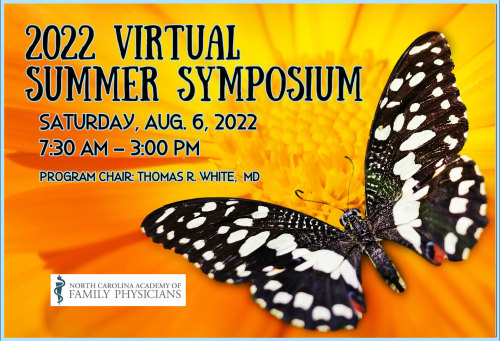 Celebrate your commitment of providing the best possible care to your patients with these fantastic learning opportunities in 2022!
If you have never attended an NCAFP conference, we warmly invite you to join us this year and experience firsthand what all the buzz is about. You'll enjoy a CME program that is guaranteed to leave your family medicine heart refreshed and re-energized. On behalf of the NCAFP, thank you ALL for what you do for your patients and communities every day. We appreciate you, and we are so proud of you! Best wishes for a safe, happy, and rewarding 2022.
Kathryn Atkinson, CMP
Manager, NCAFP Meetings & Events
919-214-9058

Save these Dates for Terrific NCAFP CME in 2022


This June, family physicians and their healthcare partners can participate in several complimentary virtual learning opportunities intended to expand a provider's expertise in treating complex pain through training and consultation. Several flexible 3-hour virtual learning sessions (divided into Parts I and II) will equip our members and other primary care providers with the knowledge, skills, and support needed to manage chronic pain in patients with comorbidities. The sessions are free, and participants can attend as much or as little as they would like for up to 6 CME credits total. Credits earned will also count towards the state's controlled substance CME requirement for physicians and other healthcare providers.
The courses are available after office hours on Wednesday, June 15 (Part I) & Wednesday, June 22 (Part II) and also on Saturday, June 18 (Parts I in the morning & II in the afternoon). Learn more here.
Saturday, August 6, 2022 | 7:30 am to 3:00 pm
Pre-Conf KSA Opportunity on Friday, August 5, 2023 | 5:30 pm - 8:30 pm

Your NCAFP CME Team remains dedicated to delivering top-quality education in convenient and versatile formats. And now, back by popular demand, we are thrilled to offer the NCAFP's 2nd Annual Virtual Summer Symposium on Saturday, August 6, 2022, from 7:30 am to 3:00 pm. Under the direction of Program Chair Dr. Thomas White, the convenient learning opportunity will provide attendees with up to 6 Prescribed Credits by their participation. This lively interactive webcast means you can enjoy valuable education centered on the topics you see and treat most often – all from the comfort of your favorite air-conditioned location this August. Learn more and register here.
Thursday, December 1 - Sunday, December 4, 2022
The Omni Grove Park Inn, Asheville, NC
More details coming soon!
Tap here for a quick peek at the Winter Weekend camaraderie and fun in 2021!
Get Select Sponsorship and Event Sponsorship Details Here.
Have Questions?
Contact Kathryn Atkinson, CMP | Manager of NCAFP's Meetings & Events at 919-214-9058 or via email at Katkinson@ncafp.com