2018 Exhibitor Display Opportunities
The North Carolina Academy of Family Physicians (NCAFP) appreciates your interest in providing an exhibit in 2018.
Below is helpful information regarding our 2018 display opportunities.
---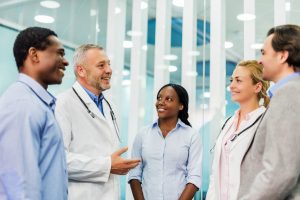 Share the benefits of your products & services with an eager and receptive audience in 2018
Our members are eager to learn about the newest medicines, technologies, and programs, so they can take this knowledge back to their practice and provide the best care for their patients.
Important exhibitor details:
Optimal interaction time with primary care physicians
Relaxed atmosphere, fun settings & exciting locations
Highly anticipated & popular annual CME conferences
Attendees from NC, SC, TN, VA, GA and other states
Flexible booth rates & great exhibit hall layouts
Free company listing & logo on mobile conference app
Refreshments & breaks provided in Exhibit Hall
Conference attendee registration lists
Additional sponsorship & satellite opportunities also available
---
2018 Winter Family Physicians Weekend – EXHIBITOR REGISTRATION IS OPEN!
Thursday, November 29 – Sunday, December 2, 2018 
Omni Grove Park Inn | Asheville, NC
825 – 850 anticipated attendees
Display Rates:
6ft Display @ $1,775
6ft Corner Display @$1,975
8ft Display @ $2,075
10ft Display @ $2,600
16 x 16 Center Display @ $3,400
Nonprofit 6ft Display @ $950 (limited)
Electricity $100
Check-in & set-up your display on Wednesday, November 28th | 4:00 PM to 8:00 PM
Exhibit Hall officially opens on Thursday, November 29th at 7:00 AM
Tear-down is scheduled for Saturday, December 1st at 10:30 AM
Contact Kathryn Atkinson, CMP, Manager of NCAFP Meetings & Events with any questions you may have.
919-214-9058 | Katkinson@ncafp.com
---
Our innovative and powerful marketing solutions are a terrific opportunity to further your brand during an educational conference. Contact Kathryn Atkinson, CMP, Manager of NCAFP Meetings & Events, to learn more – Katkinson@ncafp.com or 919-214-9058.
---
Conference Product Theaters & Satellite Events
NCAFP's Product Theaters and Satellite Events are powerful solutions for reaching your target market! These events allow commercial organizations to present information about their products, services, or therapeutic approaches to physicians and other healthcare providers attending the conference. Because the material presented in these events is primarily promotional and/or product related, these sessions may not offer continuing medical education (CME) credit.
Contact Marietta Saunders, our CME Specialist, with any questions.
Mellis@ncafp.com or 919-833-2110 or direct dial at 301-266-2672.
Have Questions?

Contact Kathryn Atkinson, CMP, Manager of NCAFP Meetings & Events, to Learn More – Katkinson@ncafp.com or 919-214-9058.