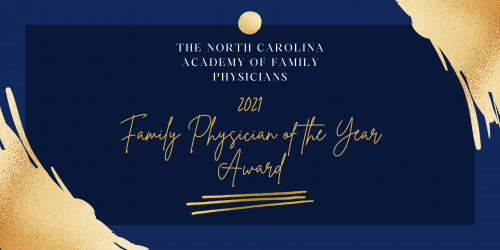 NCAFP Accepting Nominations for the 2021 North Carolina Family Physician of the Year Award
The NCAFP is now accepting nominations for its 2021 North Carolina Family Physician of the Year award. The annual recognition is the most prestigious award bestowed on a state family physician and recognizes an individual who embodies all the ideals of family medicine - a high level of patient compassion, a strong commitment to comprehensive care in their community, and a person who serves as an excellent role model to other health professionals, residents, and medical students.
The honoree will be named at the 2021 Winter Family Physicians' Weekend in Asheville this coming December. The deadline for nominations is Friday, July 30th; all nominations may be sent to NCAFP Executive Vice President Greg Griggs via e-mail (ggriggs@ncafp.com) or via fax to 919-833-1801. A nomination form can be downloaded as a .doc file or .pdf.
2021 NC FPOY Nomination Form.docx
2021 NC FPOY Nomination Form.pdf
Read about our 2020 Family Physician of the Year: Thomas R. White, MD